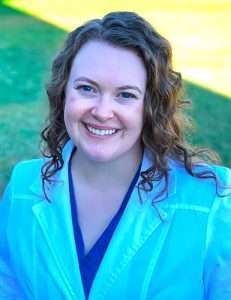 Rachael Humke
D.V.M
Neurology Resident
Dr. Humke was born and raised in the Indianapolis, Indiana area and completed her DVM at Ohio State University. Before going to veterinary school she worked as an animal assistant in a general practice clinc and spent a summer as an intern at the Indianapolis Zoo. During this internship she instituted a station training program for the zoo's Crested Coua. Her interest in veterinary neurology began during her second year of veterinary school. "The first time we went through the neurologic examination and applied it to a patient I was hooked. I love the complexities of the nervous system and how each part of your examination works together to guide you to a location and probable diagnosis." After completing her DVM, she completed a rotating internship at the University of Missouri Veterinary Health Center followed by a specialty internship at the Massachusetts Veterinary Referral Center. Dr. Humke's professional interests include idiopathic epilepsy, inflammatory diseases, and surgical neurology.
2012-2016
Bachelor of Science (Biology – Magna Cum Laude)
Duke University (Durham, NC)
2016-2020
Doctor of Veterinary Medicine
Ohio State University, College of Veterinary Medicine (Columbus, OH)
2020-2021
Rotating Internship in Small Animal Medicine & Surgery
University of Missouri Veterinary Health Center (Columbia, MO)
2021-2022

Neurology Specialty Intern
Massachusetts Veterinary Referral Center (Woburn, MA)

2022-Present

Neurology and Neurosurgery Residency
Veterinary Neurological Center (Phoenix, AZ)
Awards and Honors
Award of Excellence – Indiana University Honors Program in Foreign Languages (2011)
Magna Cum Laude – Duke University (2016)
Phi Beta Kappa – NC Beta Chapter (2017)
Excellence in

Neurology

– Ohio State University College of Veterinary Medicine (2020)
Professional Memberships
Presentations
University of Missouri Department of Veterinary Medicine & Surgery, 2020-2021 Resident-Intern Seminar Series: "Unusual Presentation of MUO: A Case Report," Columbia, MO, February 2021.
Massachusetts Veterinary Referral Hospital, Resident-Intern Seminar Series: "Tu-be or Not Tu-be:

Neural tube

defects of the vetebral column," Woburn, MA, November 2021.
Publications
Humke R, Troxel M, Brisson J, Donovan T. MRI diagnosis of

meningioma

with marked diffuse skeletal hyperostosis and parenchymal infiltration in a 6-year-old Standard Poodle. Veterinary Radiology & Ultrasound. Manuscript in final draft, plan to submit Jan 2022.
Humke R, Kowal J, Lim JH.

Magnetic resonance imaging

in a feline with presumptive methemoglobinemia. Journal of Feline Medicine and Surgery Open Reports. Manuscript drafted.
Humke R, Lim JH. What is your neurologic diagnosis? A paradoxical vestibular dog GME. Journal of the American Veterinary Medical Association. Manuscript drafted.